This month, we welcome one of our newest service partners, dnaPower Inc, to our blog. dnaPower Inc is a Canadian, female-run biotechnology company focused on providing the most comprehensive health and wellness DNA testing since 2008. 
Their DNA reports include 70+ personalized insights into your diet, exercise, and lifestyle genetics, providing tailored health solutions to help you live your best life.
We're excited to partner with dnaPower Inc, as we continue to expand our diverse roster of healthcare options available to Advica members – offering unique and effective wellness solutions.
Putting "care" back into healthcare centers largely around individual care, and there is no better way to individualized healthcare than DNA testing.
In today's blog, dnaPower will be sharing a client success story of how DNA testing has helped their client alleviate chronic inflammation, cut back on pain medications, and support healthy weight loss.
Greg's Knee Surgery
Greg is a personable 60-year-old man who sustained a knee injury over 30 years ago playing football. Since then, he has had inflammation and pain around his right knee and needs a fair amount of pain medication to just get through his day.
The pain has stopped him from being as active as he likes to the point that he now finds walking difficult. He feels lack of activity has been the main reason he is now over 250 pounds.
Greg is considering knee surgery. Prior to the surgery, he wants to make sure he is as healthy as possible and hired a health coach to help him decide what to focus on.
Greg's dietPower Report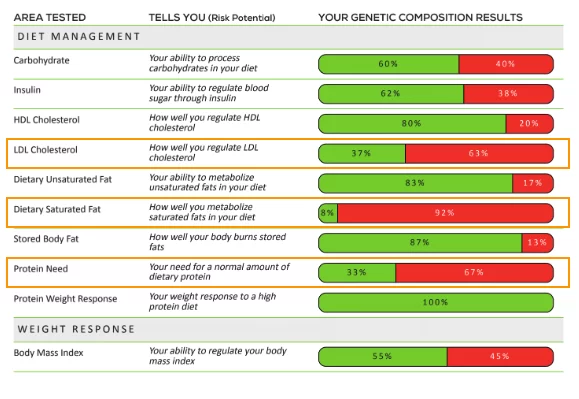 Greg's fitPowerResults

Greg's healthPower Results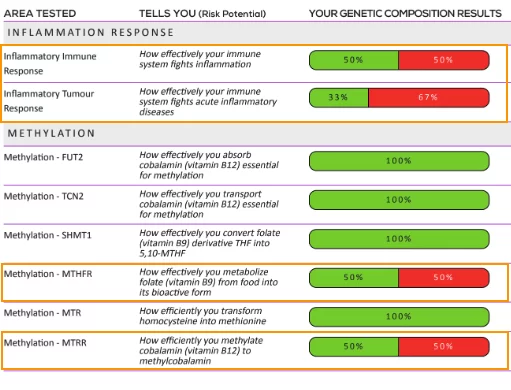 Greg's brainPower Results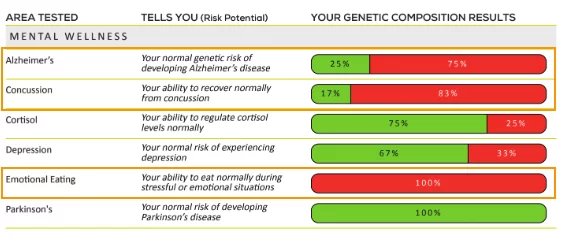 Changes Greg Made
Addressing Inflammation
Greg was eating out for most meals and eating lots of highly processed foods. He loves burgers and fries and ate a fair amount of cheese. This high lactose and gluten diet was exacerbating his inflammatory issues.
Insights From Greg's dnaPower Report
low LDL cholesterol
low saturated fats (eg. red meat, butter, cheese, coconut oil)
low inflammatory foods
adequate protein
Gentle endurance activities like swimming, biking, and walking.
Greg's Nutritionist-Recommended Action Plan
After Greg received his health consultation with a DNA-Certified nutritionist (included as part of his DNA test), he was provided with a list of actionable solutions based on his DNA results:
Increase sources of healthy monounsaturated fats such as olive oil, nuts, seeds and avocado.
Cut back on saturated fats such as butter, milk, cheese and red meats and include more vegetable-based protein such as legumes, beans and tofu.
Reduced processed, deep-fried foods like fries and burgers.
Avoided gluten-containing foods such as burger buns.
A Sample Of Greg's Anti-Inflammatory Meals
Breakfast: Anti-inflammatory breakfast smoothie with mixed berries, cauliflower, flaxseed oil, and chia seeds.
Lunch: Mixed bean, baked tofu salad with hemp seeds and golden turmeric dressing with extra-virgin olive oil.
Dinner: Wild salmon and avocado-walnut salad to increase omega-3 intake from whole food sources.
Supplementation:
Omega-3 supplement (for knee inflammation and Alzheimer's disease risk)
Turmeric (for anti-inflammatory benefits)
Greg's Transformative Results
In the last 6 weeks, Greg has begun every day with his power shake. He is losing about a pound a week and most importantly has cut his pain medication in half! He is even able to get on his stationary bike for 30 minutes a day. Greg is thrilled that he can work on building leg strength instead of constantly trying to avoid pain.
The DNA report helped Greg make the sustainable lifestyle changes he needed to start losing weight and reduce his pain sufficiently to increase his activity and cut back his pain medication.
While Greg still has a risk for Alzheimer's disease, his genetic testing was able to highlight some key diet and fitness areas that he could use to diminish his total risk. Greg is using knowledge of his DNA to practice preventative, proactive health.
Preventative Care for Greg's Grandchildren
Greg is fortunate that he did not suffer from a concussion during his time playing football. He is sharing information about his APOE gene concussion and Alzheimer's disease risk with his children and grandchildren. Some of Greg's grandchildren, who participate in high-risk sports, have contacted his health coach to order genetic tests.
Early Screening and Ongoing Check-ups
Greg is also undergoing regular, early screening through his health care provider. He is starting the conversation early and is optimistic that he can take steps to reduce his overall risk. Greg is making plans for his care, so his children will not be left to make decisions on his behalf should he develop Alzheimer's disease. Greg is now committed to his new diet and exercise regime.
If you would like to find out more, pleasereach out to one of our Nurse Navigators as they can help you access DNA Testing services. 
Disclaimer: The information shared by Advica Health Communications Team, included but not limited to text, infographic, videos and other material contained in this blog are for educational and informational purposes only. No material in this newsletter is intended to be a substitute for professional medical advice, diagnosis or treatment. Always consult your family physician or other qualified healthcare professional with any questions that you may have regarding a medical condition, treatment or before undertaking a new health regimen. Do not delay any medical intervention or treatment because of something you have read in this newsletter.